Regular price
€44,95 EUR
Sale price
€44,95 EUR
Unit price
€74,92
per
100g
Sale
Sold out
2 month pack
Colostrum fermented with kefir-120 capsules x 500mg
ingredients

Per pack: 120 capsules x colostrum (fermented with kefir) (total: 60,000 mg/60g)
Shipping Information

4,99 €

Free shipping from €50.00 (DE) from €150 Europe-wide (EU)
Contents

Per pack: 120 capsules x 500mg (total: 60,000 mg/60g)

Consumption recommendation

Take 1 capsule twice a day before a meal

shares
View full details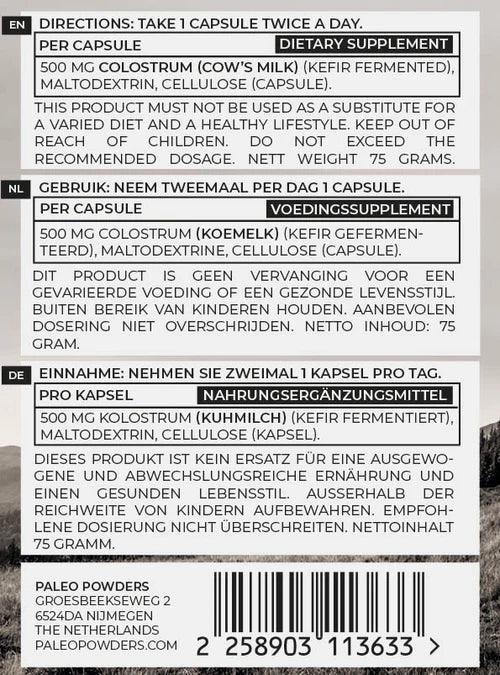 Colostrum, the first milk that a newborn calf receives from his mother, is a truly remarkable gift from nature. This initial elixir is crucial for a smooth start in life and healthy growth. However, colostrum is not limited to the early stages of life. As a dietary supplement for all ages, bovine colostrum contains a treasure trove of nutrients that is second to none. The 700-plus interacting substances in colostrum, from immunoglobulins to growth factors to amino acids and vitamins, form a unique combination of nutrients.
The merits of colostrum
Our carefully obtained beef lostrum formula has a lot to offer:
It remains raw and freeze-dried to preserve minerals, vitamins and cofactors.
It contains powerful immune factors such as immunoglobulins, proline-rich polypeptides (PRPs), lactoferrin, glycoproteins and cytokines.
Our recipe is pure and provided with high quality ingredients.
It dispenses with antibiotics, fillers, hormones and is free from genetically modified organisms (GMOs).
It has been tested for allergens and independently tested for purity.
It provides with bioactive essential vitamins, minerals, enzymes and amino acids.
In concentrated form, it houses more than 700 interactive substances.
Colostrum is an invaluable source of antibodies.
It is not only nutritious, but also offers essential nutritional value.
Our colostrum is obtained within the first 24 hours and thus preserves its unique goodness.
The diverse benefits of fermented colostrum
But this is where the story doesn't stop. As a result of the union of kefir cultures with colostrum, a truly impressive synergy is created. The microorganisms in the kefir culture act like tiny bioreactors and form an abundance of bioactive peptides that are found in this form only in the fermented colostrum. These small but powerful biopeptides play a large role in the human body, giving the fermented colostrum exceptional strength.
Kefir-fermented colostrum: A Quin-Biotic Supplement
The 48-hour fermentation of high-quality European full-fat colostrum containing at least 20% immunoglobulins creates a remarkable transformation. The addition of traditional kefir grains from Romania further enhances this process.
The resulting product is more than just fermented colostrum; it has turned into a food source all its own. More than 300 new, unique bioactive peptides have emerged, and a quinbiotic (5-component) supplement has been created that combines prebiotics, probiotics, parabiota, postbiotics and probiotacs.
Please note that this is not an isolated formulation of individual compounds. Kefir-fermented colostrum owes its effectiveness to the symbiosis and synergy of colostrum and kefir. The complex interaction during fermentation reveals the full potential of natural food.
The impressive world of bioactive peptides
The fascinating properties of food peptides are increasingly recognized. These bioactive peptides, abundant in kefir-fermented colostrum, go beyond the mere nutritional value of amino acids. They act as real messenger molecules and regulate important bodily functions in a variety of ways.
Tradition and modernity: the evolution of fermented milk products
The history of human interaction with milk is rich in riddles and wonders. The transition from hunter-gatherer communities to agricultural communities may have been facilitated by fermented foods and beverages. In many cultures, these products are still an important part of the diet today.
Fermented milk products: a new angle
Fermented milk products are fundamentally different from non-fermented. As a result of the fermentation process, ordinary milk turns into a completely different food. The conversion of milk sugar, the enrichment of milk and the reduction of undesirable components make fermented milk products a valuable and well-tolerated nutritional asset.
An innovative concept: kefir-fermented colostrum
Kefir, the king of fermented foods, also transfers this transformative power to colostrum. The result is startling:
Kefir-fermented colostrum contains over 65 times more low-molecular peptides.
It has 4.6 times more healthy fats.
Lactose content is 66 times lower (5.5 mg per capsule).
This fusion of colostrum and kefir opens up a completely new dimension of food supply.
Legal notice

This product is used for nutrition and therefore does not affect the Medicines Advertising Act (HWG). A good nutritional status can help the organism to prevent or overcome diseases. All statements made about the product describe properties and physiological effects that can naturally vary among consumers and do not represent any promises of healing or health.

No medicine

Dietary supplements: The specified recommended daily intake must not be exceeded. No substitute for a balanced and varied diet and a healthy lifestyle.

Free Shipping

We ship from a purchase value of 50,00 € free shipping (DE) from 150 € Europe-wide (EU)