Regular price
€12,99 EUR
Sale price
€12,99 EUR
Unit price
per
Sale
Sold out
32 cards with 32 beef steak cuts and their characteristics
Shipping Information

4,99 €

Free shipping from €50.00 (DE) from €150 Europe-wide (EU)
Consumption recommendation

Read the game instructions
shares
View full details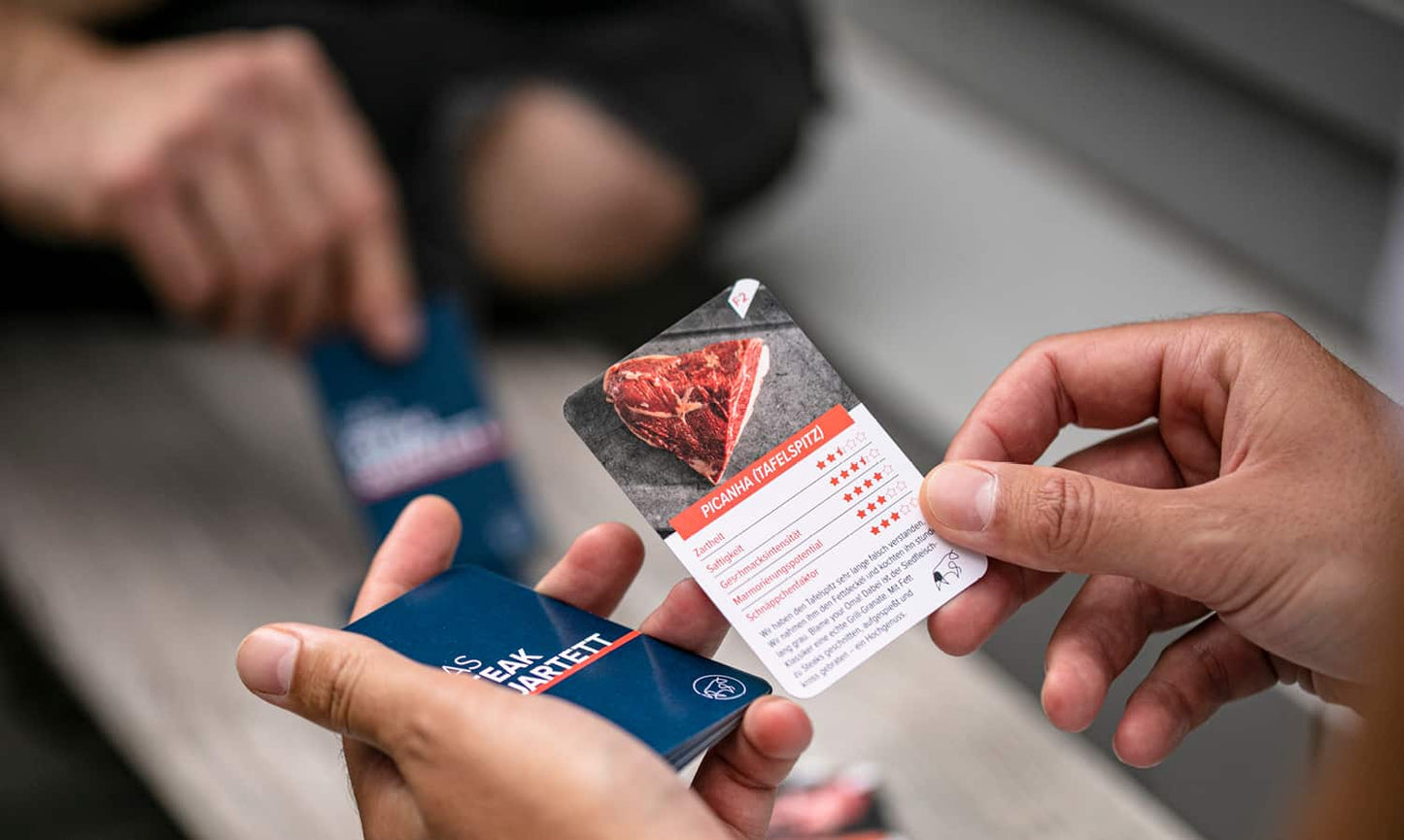 Steak Quartet-The ultimate card game for meat fans
We deliver 32 cards with 32 beef steak cuts and their characteristics. Compare classics like T-Bone, Porterhouse and Tomahawk steak with new types of cuts like Denver-Cut or Onglet. Measure yourself in the categories of tenderness, taste intensity, marbling potential and bargain factor with the cuts of your opponents.
The steak quartet of meat happiness
Combines hot duels with a high learning factor
In addition to a culinary classification, each card provides additional background information on the cut and
Illustrates the location of the steak in beef
Discover new cuts and defeat your opponents in the duel for the cuts!
The evaluation categories of the individual cuts at a glance:
Tenderness: How much resistance do the muscle fibers offer when they bite this cut? Background: The less stress and movement a muscle is exposed to, the less connective tissue it builds up. A high proportion of connective tissue ensures a tougher and more stable texture in short pieces of brate.
Juiciness: How creamy and juicy does this cut feel in the mouth when properly fried? The decisive factor for this is the fat content and the water binding ability of the respective cut.
Taste intensity: How intense is the basic aroma of the meat in this cut: Background: The more movement a muscle experiences and the more it is supplied with blood, the more taste it influences.
Marbling potential: How much potential for fat storage does this cut have? Some pieces in beef always store significantly more fat than others. While the heart of a beef is always lean-regardless of the breed-fat is always deposited in the neck or between the ribs, which later melts during frying and ensures tenderness and juiciness.
Bargain potential: What is the chance that you can buy this cut at a comparatively low price? Many rather unknown cuts are (still) sold at very low prices, although they have enormous culinary potential. The less a cut is in demand, the cheaper it is and the higher the bargain potential.
Legal notice

This product is used for nutrition and therefore does not affect the Medicines Advertising Act (HWG). A good nutritional status can help the organism to prevent or overcome diseases. All statements made about the product describe properties and physiological effects that can naturally vary among consumers and do not represent any promises of healing or health.

No medicine

Dietary supplements: The specified recommended daily intake must not be exceeded. No substitute for a balanced and varied diet and a healthy lifestyle.

Free Shipping

We ship from a purchase value of 50,00 € free shipping (DE) from 150 € Europe-wide (EU)