Regular price
€0,00 EUR
Sale price
€28,95 EUR
Unit price
€14,48
per
100g
Sale
Sold out
100% grass-fed organic bone marrow
From Swedish organic and KRAV certified animals

Growing on 100% grass & herbs and 0% cereals

Free of growth hormones, antibiotics and pesticides

Gently processed in order to have the best possible nutritional profile

Completely free of allergens
ingredients

100% grass-fed and biological bovine bone marrow
Shipping Information

4,99 €

Free shipping from €50.00 (DE) from €150 Europe-wide (EU)
Contents

200g grass-fed and biological bovine bone marrow
Consumption recommendation

Simple instead of oil for frying or cooking
shares
View full details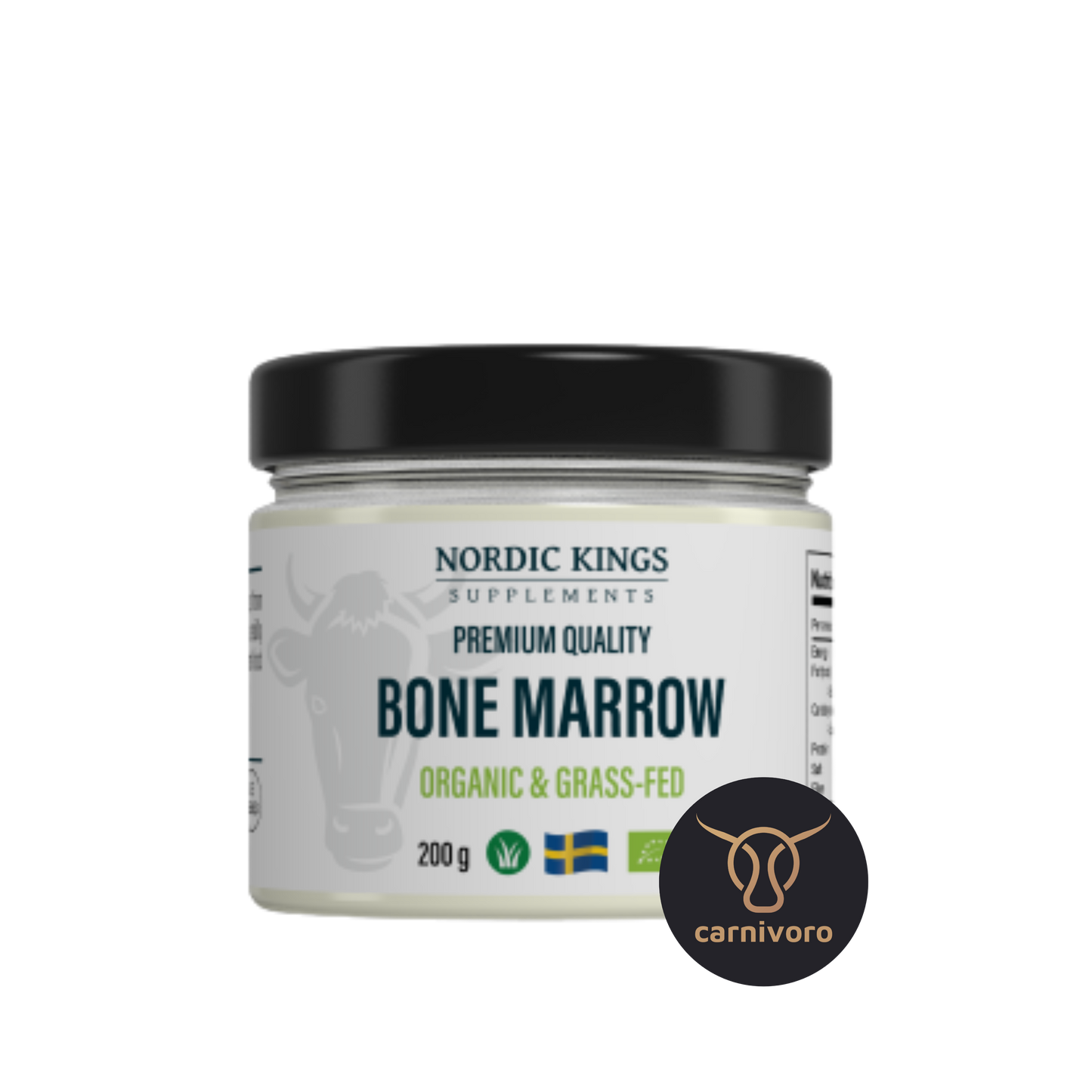 100% grass-fed organic bone marrow
Turn every dish into a nutrient-rich powerhouse and take your kitchen to the next level with Nordic King's 100% grass-fed organic beef bone marrow!
From Swedish organic certified animals.
Raising 100% grass and herbs and 0% grain.
Free of growth hormones, antibiotics and pesticides.
Gone processed to get the best possible nutritional profile
Contains only ONE ingredient, no additives
The benefits of beef bone marrow
If the "nose-to-tail" concept scares you, but you still want to reap its benefits, adding beef bone marrow to your diet is the easiest way to get started. It has an extremely delicious, rich flavor, which is why it has been adopted by many culinary cultures around the world. In addition to taste, it also has some damn good nutrients.
Bone marrow contains significant amounts of:
Collagen (and thus glycine)
Glucosamine
Chondroitin
Interesting new research shows that bone marrow contains the hormone "adiponectin".
Bone marrow provides a small amount of the B vitamins thiamine, riboflavin, vitamin B12, pantothenic acid and biotin, which are needed for important body processes, including energy production. [ * ]
Bone marrow contains four times more vitamin E than meat, liver and sebum. [ * ]
Because the Nordic Kings bone marrow comes from grass-fed cows, it has a favorable omega-3/omega-6 ratio. In addition, bone marrow fat contains high levels of long-chain saturated fats such as oleic acid, stearic acid, palmitic acid and other essential fatty acids such as conjugated linoleic acid (CLA).
How to use beef bone marrow
Basically, you can use the bone marrow for any recipe that requires cooking oil or fat. In addition, the mild taste goes well with almost any dish!
Try bone marrow instead of vegetable oil for frying, preparing eggs, french fries or potatoes. Grill your meat with bone marrow in the grill pan. Searing vegetables or heating offal quickly works great too! You can also turn a plant-based meal such as rice, millet or other stewed grains into an extremely nutritious dish full of useful ingredients by adding a tablespoon of bone marrow. Add bone marrow to our bone broth powder (Beef Bone Broth). With just two ingredients and boiled filtered water, you'll have prepared a nutritious bone broth in just 2 seconds-it tastes like homemade! Or use it as a spread on sourdough bread, add it to your coffee-the possibilities are endless!
Laboratory tested and without additives
Nordic Kings Bone Marrow comes in a glass jar and contains no preservatives, salt, trans fats, dyes or dyes, MSG, flavor enhancers and other additives. In addition, our bone marrow is tested in the laboratory for heavy metals and its ideal fatty acid profile.
Processing method
The bone marrow is carefully removed, then gently heated and filtered to separate the fat from the rest of the connective tissue. The result is a pure fat that is solid after cooling at room temperature.
origin
Our highest priority is the quality of our raw materials. This is why all our ingredients come from 100% grass (0% grain!) And come from happy and healthy animals that can roam freely in the pristine Swedish countryside and graze lush green grass and herbs. Our farmers work according to the strict Swedish KRAV and EU organic guidelines to guarantee you that the quality of our organs is unsurpassed. In addition, we only work with small series and carry out production in-house. This allows us to control our standards from start to finish. And we can see that they are high.
storage
Store bone marrow in a cool (max. 8 °C) dark place-or in the refrigerator. The recommended unopened shelf life is up to 12 months. After opening, it will keep for up to 6 months. Use a clean spoon each time you use the marrow and seal the jar tightly after each use to protect it from moisture and air.
Nutritional value
Energy in 100g 3700 kJ / 900 kcal
Fat (total) 100%
-Saturated fat 45%
-Monounsaturated fat 44%
-Polyunsaturated fat 3%
-Trans fatty acid (natural) < 5%
Ingredients: 100% grass-fed and organic bone marrow
Produced by: Nordic Kings Supplements
Fatty acid composition (typical values)
Miristsäure 2 %
Palmitinsäure 23 %
Palmitoleic acid 4%
Stearinsäure 17 %
Oleic Acid 42%
Linolsäure 3 %
Other 9%
Legal notice

This product is used for nutrition and therefore does not affect the Medicines Advertising Act (HWG). A good nutritional status can help the organism to prevent or overcome diseases. All statements made about the product describe properties and physiological effects that can naturally vary among consumers and do not represent any promises of healing or health.

No medicine

Dietary supplements: The specified recommended daily intake must not be exceeded. No substitute for a balanced and varied diet and a healthy lifestyle.

Free Shipping

We ship from a purchase value of 50,00 € free shipping (DE) from 150 € Europe-wide (EU)
Wertvoll!
Mein erstes Frühstück am Morgen ist eine Suppe aus Bon Broth und einem Löffel Bone Marrow. Tut mir sehr gut und es hilft tatsächlich gegen Fältchen im Gesicht! Ich bin begeistert!
Ideal zur Bone Broth
Perfekte Ergänzung zur Bone Broth.