Regular price
€39,95 EUR
Sale price
€38,95 EUR
Unit price
€43,28
per
100g
Sale
Sold out
1 month pack
From Swedish organic and KRAV certified animals

Growing on 100% grass & herbs and 0% cereals

Free of growth hormones, antibiotics and pesticides

100% freeze-dried

Completely free of allergens
ingredients

Per pack: 180 capes x 500mg (total: 90,000 mg/90g)
Amount per 6 capsules (daily dose)
Cattle kidney from Swedish grass feeding (organic) ** approx. 3,000 mg/3g

** = Organic ingredient
* = Daily reference intake value not yet set

Manufactured by: Nordic Kings Supplements
Shipping Information

4,99 €

Free shipping from €50.00 (DE) from €150 Europe-wide (EU)
Contents

Per pack: 180 capes x 500mg (total: 90,000 mg/90g)
Consumption recommendation

Daily dose: 6 capsules
More information
Dosage calculated according to the recommendation of Western A. Price of 100 grams of cattle organs per week.
shares
View full details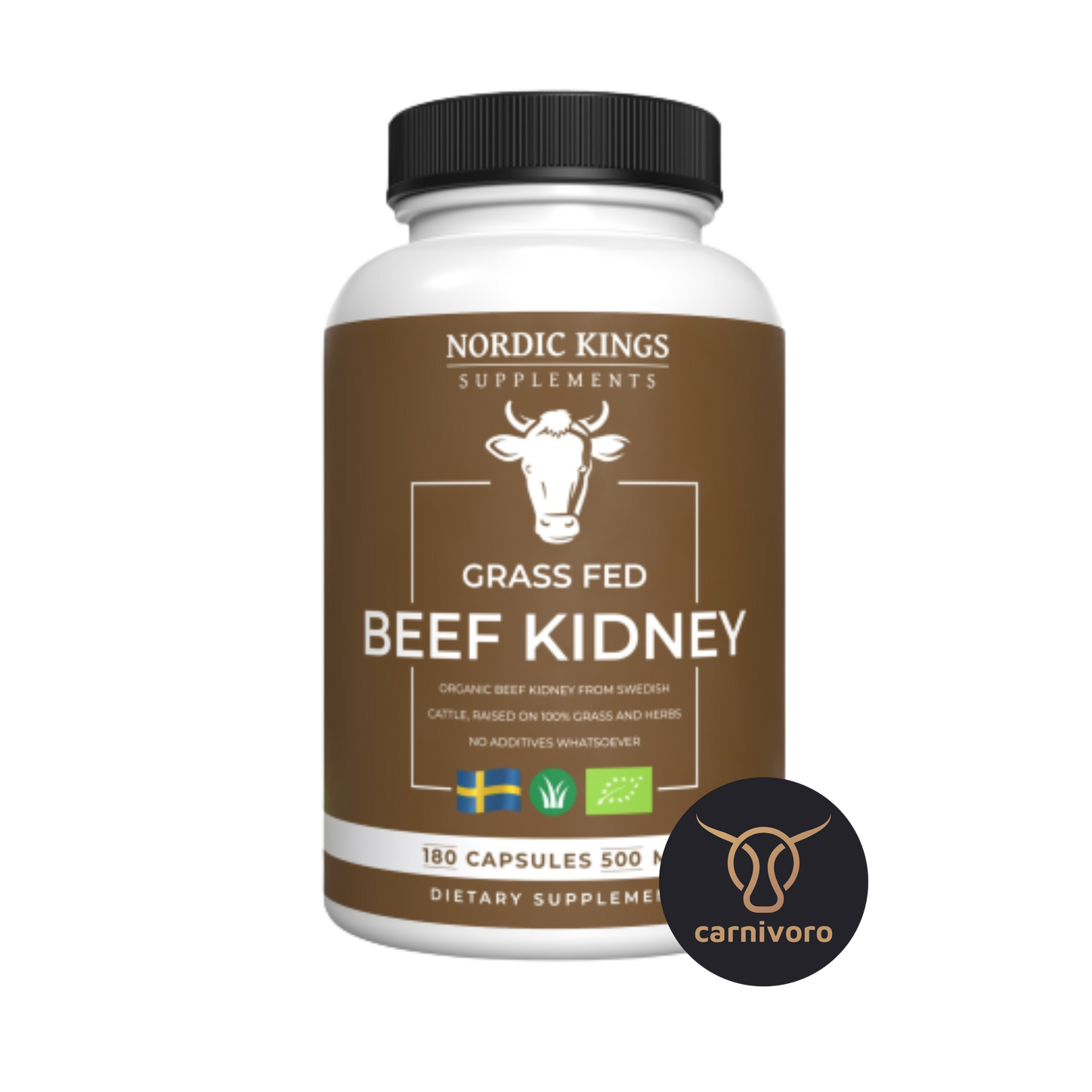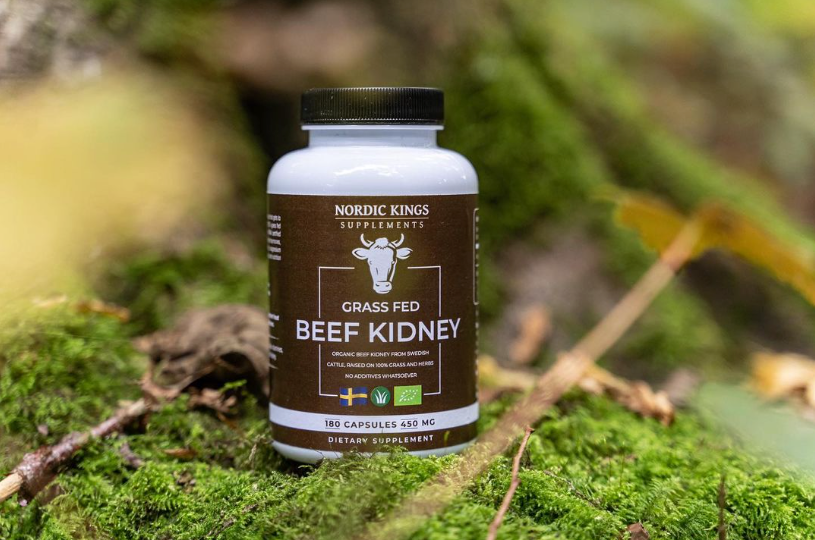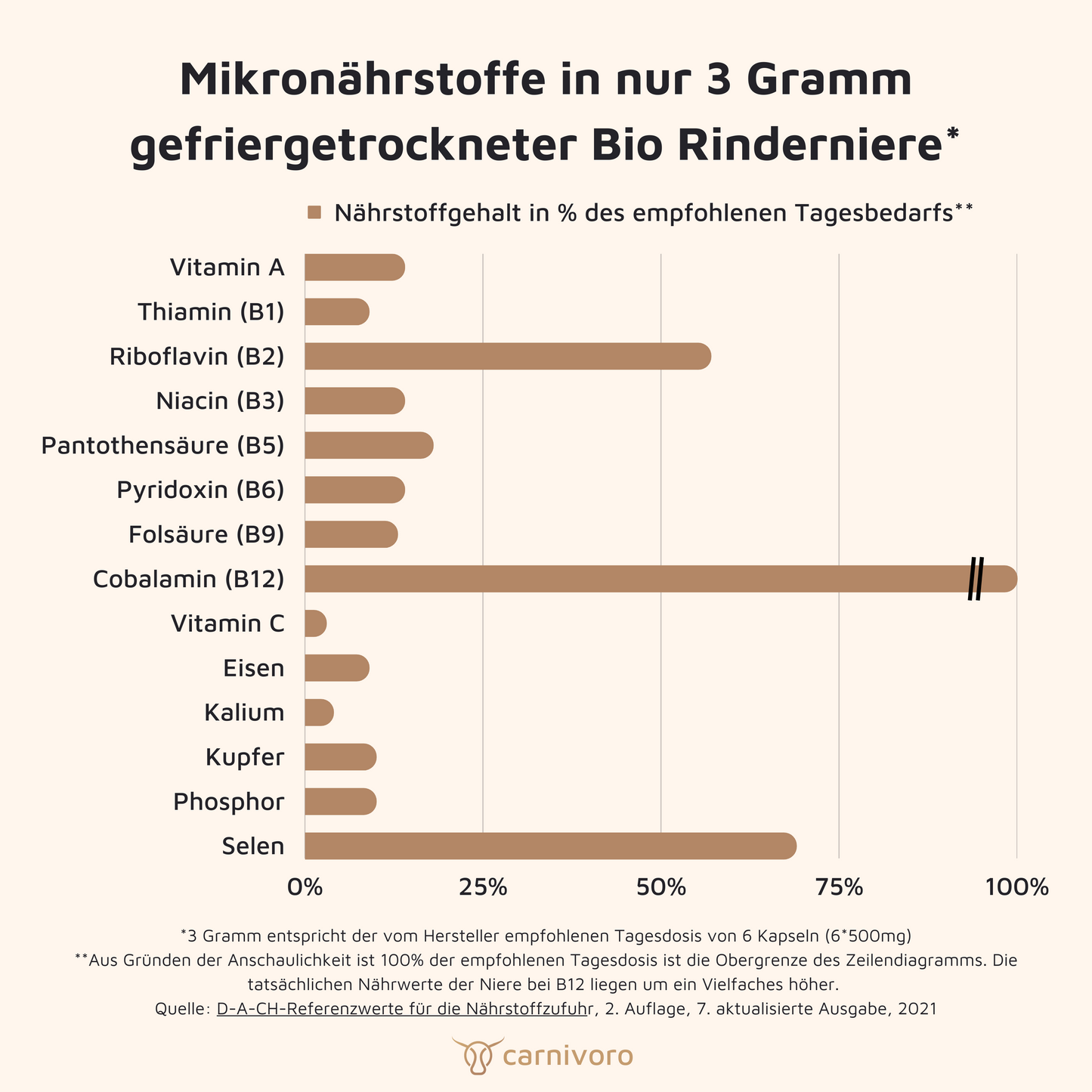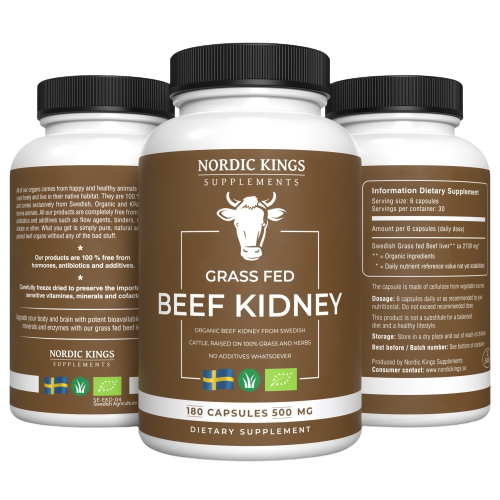 100% grass-fed & organic cattle animals
From Swedish organic and KRAV -Certified animals
Growing on 100% grass & herbs and 0% cereals
Free of growth hormones, antibiotics and pesticides
100% freeze-dried
Completely free of allergens
Nordic Kingsgrass-fed kidney contains natural and high concentrations of:
Selenium (a powerful antioxidant)
Vitamin A
Vitamin B12
DAO (Diaminoxidase)
Bioavailable Heme Iron
Riboflavin (Vitamin B2)
Vitamin B6
Folate (the natural form of vitamin B9)
Pantothensäure (vitamin B5)
Niacin (Vitamin B3)
All essential kidney-specific peptides, cofactors and enzymes
Who are our supplements for?
Our organ supplements are for you who:
Want to start eating offal regularly
Want to be sure that you will always get offal of absolutely the highest quality
Do not want to waste time on annoying preparation and cooking
Do not like the unique taste of offal
You don't want to worry about where you can get your next batch of high-quality organs
Many of our clients are practitioners or advocates of the PALEO/Stone Age Diet, Pure Food, Biohacking / Body Optimization, Functional Medicine, Functional Food, Raw Food, and/or KETO Diet.
Absolutely no additives
The Nordic Kings freeze-dried cattle kidney is completely free of fillers and additives such as release agents, binders, magnesium silicate. Only pure natural, nutritious cattle animals.
Drying process
Our products are 100% freeze-dried, which, unlike traditional heat drying, preserves the important heat-sensitive vitamins, minerals and cofactors that make offal the amazing superfood it really is.
Inspection of farms
All our farmers are inspected annually to ensure the animals are healthy and under the strict animal welfare laws of
KRAV
Live.
In addition, all our animals eat only 100% grass and herbs and all farmers have been carefully selected by hand.
So you can always rely on the fact that you will receive only the absolutely highest possible quality.
All of our animals live as they were evolutionarily created, roaming freely on pristine pastures and meadows all year or much of the year. This allows our animals to fully express their natural behavior, which allows them to live a happy, stimulating and healthy life.
In the months when our animals cannot graze on fresh grass and herbs, they are fed fermented pasture (silage), made through a completely natural fermentation process performed by the microscopic organisms in the grass itself.
If we let our animals eat only what they are intended for and live freely in the best possible conditions, the innards will naturally get a much higher nutrient density.
Food Supplements Information
Serving Size: 6 Capsules
Servings per pack: 30
Total capsules per pack: 180
Amount per 6 capsules (daily dose)
Cattle kidney from Swedish grass feeding (organic) ** approx. 3.000mg/3,0g
** = Organic ingredient
* = Daily reference intake value not yet set
Manufactured by: Nordic Kings Supplements
More information
Dosage calculated according to the recommendation of
Western A. Price
Of 100 grams of cattle organs per week.
Legal notice

This product is used for nutrition and therefore does not affect the Medicines Advertising Act (HWG). A good nutritional status can help the organism to prevent or overcome diseases. All statements made about the product describe properties and physiological effects that can naturally vary among consumers and do not represent any promises of healing or health.

No medicine

Dietary supplements: The specified recommended daily intake must not be exceeded. No substitute for a balanced and varied diet and a healthy lifestyle.

Free Shipping

We ship from a purchase value of 50,00 € free shipping (DE) from 150 € Europe-wide (EU)
Schnelle Lieferung :)
Hab mir die Beef Kidney bestellt. Kam schnell, alles bestens :)