Regular price
€39,95 EUR
Sale price
€38,95 EUR
Unit price
€43,28
per
100g
Sale
Sold out
1 month pack
From Swedish organic and KRAV certified animals

Growing on 100% grass & herbs and 0% cereals

Free of growth hormones, antibiotics and pesticides

100% freeze-dried

Completely free of allergens
ingredients

Per pack: 180 capes x 500mg (total: 90,000 mg/90g)
Amount per 6 capsules (daily dose)
Beef heart from Swedish grass feeding (organic) ** approx. 3,000 mg/3.0g

** = Organic ingredient
* = Daily reference intake value not yet set

Manufactured by: Nordic Kings Supplements
Shipping Information

4,99 €

Free shipping from €50.00 (DE) from €150 Europe-wide (EU)
Contents

Per pack: 180 capes x 500mg (total: 90,000 mg/90g)
Consumption recommendation

Daily dose: 6 capsules
More information
Dosage calculated according to the recommendation of Western A. Price of 100 grams of cattle organs per week.
shares
View full details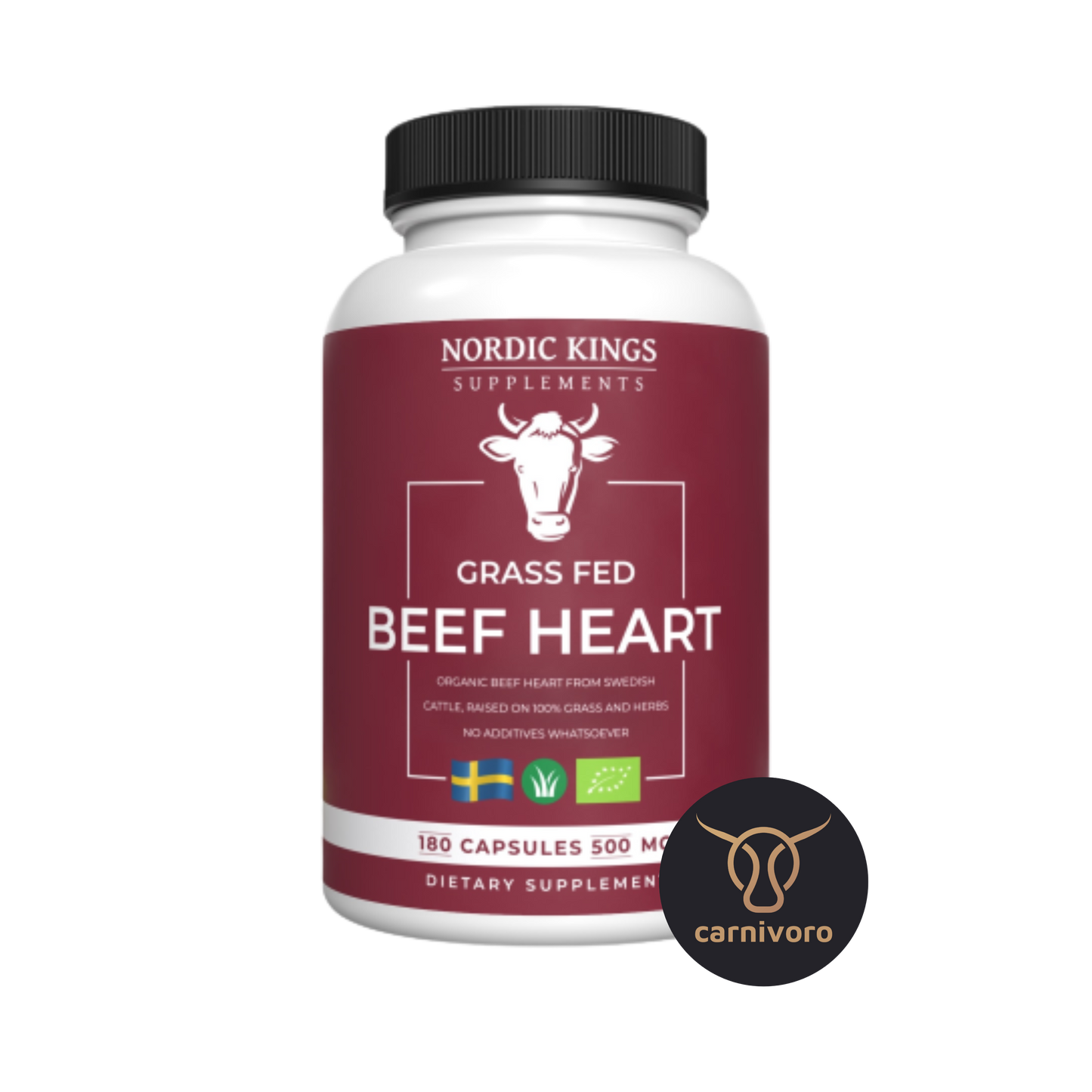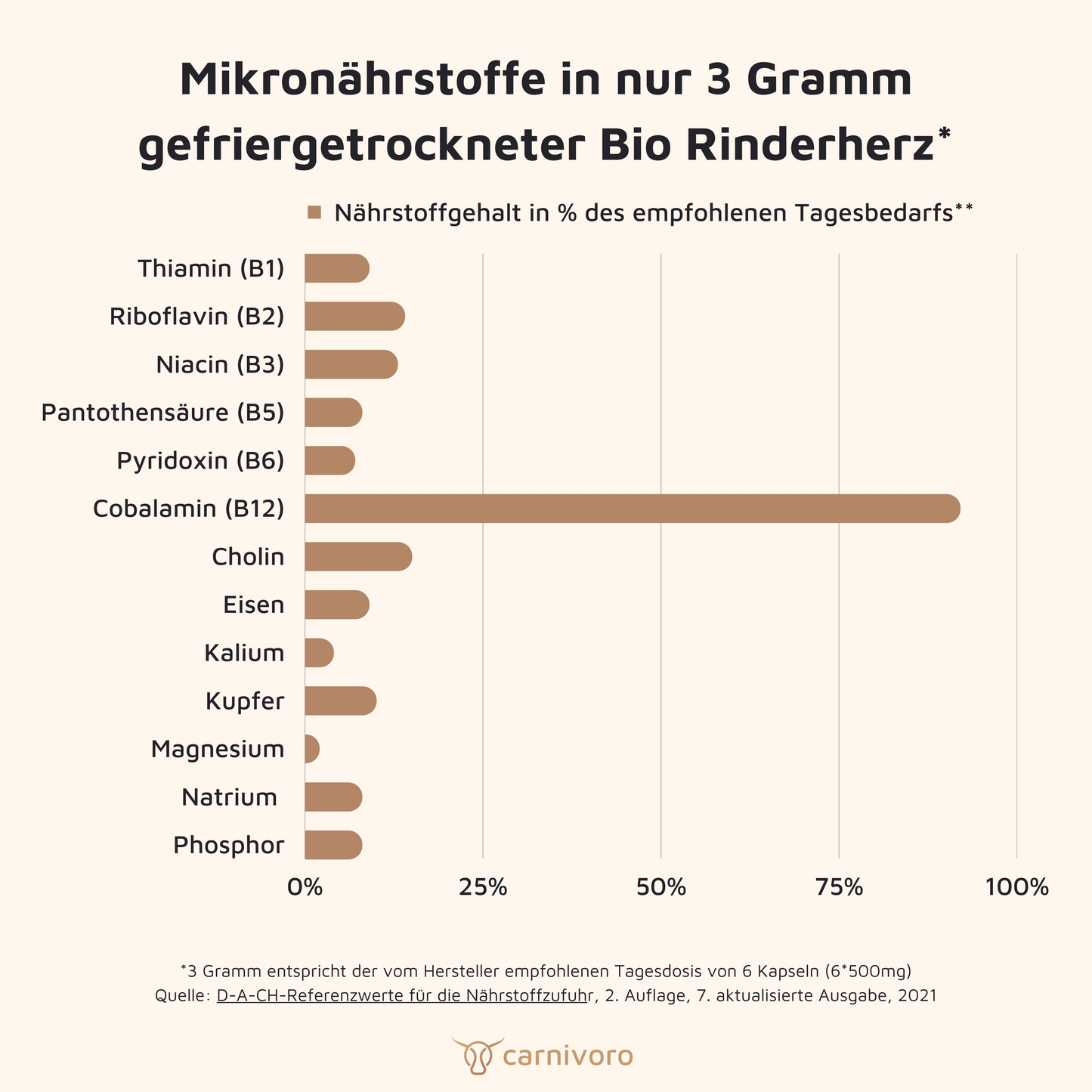 100% grass-fed and biological bovine heart
From Swedish organic and KRAV -Certified animals
Raising from 100% grass and herbs and 0% from cereals
Free of growth hormones, antibiotics and pesticides
100% freeze-dried
Completely free of allergens
Why eat offal?
Due to the amazing mix of minerals, vitamins and cofactors, you will nourish your body & brain while eating high-quality organs. Organs of grass-fed animals are the most valuable and nutrient-dense foods we can eat.
They have a broader nutritional profile and a higher concentration of combined vitamins, minerals and enzymes than any other food in the world. In addition, everything in a very bioavailable form, which the body can easily absorb.
Nordic Kingsgrass-fed bovine heart contains natural and high concentrations of:
CoQ10
Vitamin A
Vitamin B12
Thiamin (Vitamin B1)
Folate (the natural form of vitamin B9)
Pantothensäure (vitamin B5)
collagen and elastin
The amino acids glycine and proline
All important heart-specific peptides, enzymes and cofactors You will also get high-quality and well-absorbable selenium, phosphorus-heme-iron, copper and zinc.
Just as with the liver and kidney, all the nutrients of the heart are present along with its unique and natural cofactors.
The benefits of taking Beef Heart
Main nutrients in bovine heart:
CoQ10
Vitamin B12
All three nutrients support energy metabolism and reduce fatigue.
Vitamin B12 is a versatile nutrient that acts in the body in several ways. Vitamin B12 helps the immune system. It also plays a role in cell division and helps maintain mental resilience. It is even important for the nervous system.
Heart is nature's most concentrated source for CoQ10-a vitamin-like substance and antioxidant found in all cells. It plays a role in the function of the mitochondria (the power plants of our cells).
Riboflavin is a B vitamin and acts as an antioxidant. It does not occur in many foods. Sources-liver, heart and kidney are the best choice. Nevertheless, it is essential for our general health.
Riboflavin also supports the maintenance of normal red blood cells. It has a positive effect on the functioning of the nervous system and contributes to normal iron metabolism.
With heart, you get all the important heart-specific peptides, enzymes and cofactors.
They also get all the other vitamins and minerals that the heart contains, as well as the unique and natural cofactors that increase bioavailability and dramatically increase absorption by the body.

How to use beef heart
Always take our supplements at your biggest and most fatty meal of the day. How to promote the absorption of all fat-soluble vitamins
Secondly, it is best to distribute the nutrients "micro-dosed" and prefer to distribute them over meals rather than taking 6 capsules at a time.
Have a small portion of Beef Heart each day, instead of a larger portion once a week. For the same reason, it is better to eat small amounts of offal, rather than more of it once a week.
Make sure the meal contains fat, since coenzyme Q10 is fat soluble in the heart.

Can't swallow capsules? No problem. We have a tip!
Just open your Organ Mix capsules and sprinkle them over your food. Goes very well with minced meat, pureed vegetables, potatoes, smoothies, stews, sauces and soups!

Who are our dietary supplements suitable for?
Our organ supplements are intended for those who want to eat the highest quality cattle organs. Easy and fast without the hassles of cooking, without fear of poor quality, supply issues or you don't like the unique taste of offal.
Nordic Kings supplements are also perfect for you if you have already started eating offal and would like to improve, replace or supplement your already organ-rich diet.
Our organ preparations are for you if:
You want to eat organs regularly
You want to be sure that you will always receive organs of absolutely the highest quality
You do not want to waste time on annoying prep and cooking
You do not like the unique taste of offal
You don't want to worry about where to get your next high-quality organ delivery
Many of our clients are practitioners or advocates of the Pure PALEO/Stone Age Diet, Biohacking/Body Optimization, Functional Medicine, Functional Foods, Raw Foods and/or KETO Diet.

Absolutely no additives
Our organ mixture is completely free of fillers and additives such as release agents, binders, magnesium silicate. Only purely natural, nutritious cattle organs without harmful ingredients.

Drying method
Nordic Kings Supplements products are 100% freeze-dried, which preserves them in contrast to conventional heat drying and does not destroy important heat-sensitive vitamins, minerals and cofactors that make up offal. So offal is an incredible superfood that it really is.

Inspection of farms
Nordic Kings Supplements farms are inspected annually to ensure animals are healthy and live healthily
The strict animal welfare laws of KRAV.
In addition, all our animals only eat 100% grass and herbs and all farms have been carefully handpicked. So you can always be sure that you will receive only the absolute highest quality. All of our animals live as they were evolutionarily created, moving freely on pristine nature pastures and meadows (throughout or much of the year). This allows our animals to let off steam to express their natural behavior, which enables them to live a happy, stimulating and healthy life. The months when our animals are unable to graze the fresh grass and herbs are fed fermented pasture (silage), which is made through a completely natural fermentation process. This is carried out by the microscopic organisms in the grass itself. It takes place in the white balls that you often see lying around in the fields in summer. The result of this is that our animals are only allowed to eat what they are intended for and that they are allowed to live freely in nature. These are the best possible conditions for our organs to naturally receive a much higher nutrient density.

Food Supplement Information
Serving Size: 6 Capsules
Servings per pack: 30
Total capsules per pack: 180
Amount per 6 capsules (daily dose)
Beef heart from Swedish grass feeding (organic) ** approx. 3.000mg/3g
** = Organic ingredient
* = Daily reference intake value not yet set
Manufactured by: Nordic Kings Supplements

More information
Dosage calculated according to the recommendation of Western A. Price For 100 grams of beef
Organs per week.
Legal notice

This product is used for nutrition and therefore does not affect the Medicines Advertising Act (HWG). A good nutritional status can help the organism to prevent or overcome diseases. All statements made about the product describe properties and physiological effects that can naturally vary among consumers and do not represent any promises of healing or health.

No medicine

Dietary supplements: The specified recommended daily intake must not be exceeded. No substitute for a balanced and varied diet and a healthy lifestyle.

Free Shipping

We ship from a purchase value of 50,00 € free shipping (DE) from 150 € Europe-wide (EU)